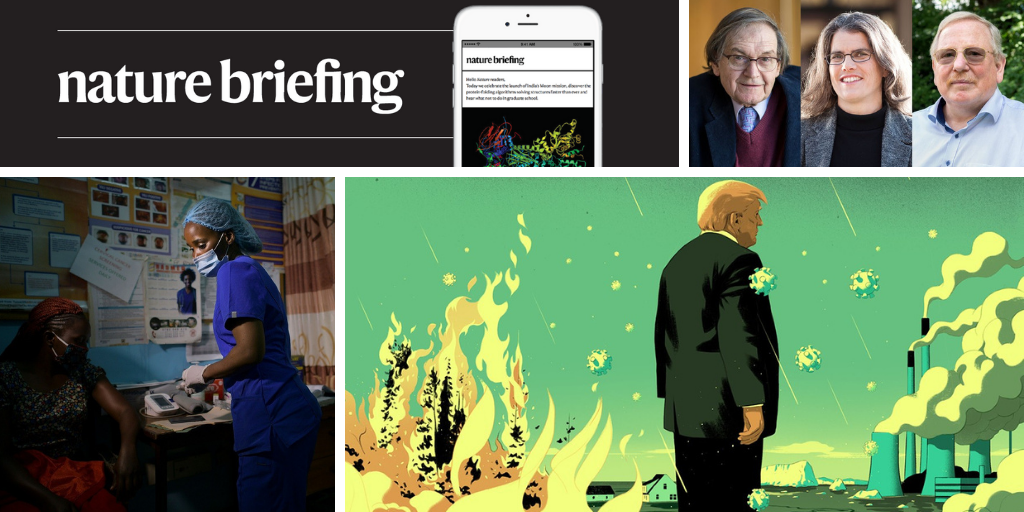 Hello Nature readers, would you like to get this Briefing in your inbox free every day? Sign up here
Three physicists have won the 2020 Nobel Prize in Physics for discoveries related to the most massive and mysterious objects in the Universe — black holes. Roger Penrose received half the prize for theoretical work in the 1960s that showed how Albert Einstein's general theory of relativity should result in regions with a gravitational pull so strong that not even light can escape. Andrea Ghez and Reinhard Genzel won the other half of the award for their discovery of what is considered the Universe's most famous example of the phenomenon — the supermassive black hole known as Sagittarius A* at the centre of the Milky Way.
Ghez is only the fourth woman to win the physics Nobel. "I hope I can inspire other young women into the field," she said. "It's a field that has so many pleasures."
Japanese academics are incensed that the country's new prime minister has refused to appoint six scientists that were nominated to the Science Council of Japan (SCJ). Prime Minister Yoshihide Suga has yet to give a reason for the unprecedented snub. The SCJ, which represents more than 800,000 Japanese scholars, needs the approval of the prime minister to assign people to its 210-member governing body. Some of the six academics — all social scientists — have spoken out against government policies. The council and academics are demanding an explanation. "The council has maintained its autonomy since it was founded (in 1949). The appointment refusals without any explanation will greatly affect the council's existence," says Kyoto University president and outgoing SCJ head Juichi Yamagiwa.
Nearly 16,000 coronavirus cases went unreported in England because national data overflowed Excel's limit of around 65,000 rows in an old-fashioned XLS file. The snafu by Public Health England meant that there was a delay in contact tracing and that figures were under-reported for eight days.
Features & opinion
US President Donald Trump's actions have exacerbated the coronavirus pandemic that has killed more than 200,000 people in the United States, rolled back environmental and public-health regulations and undermined science and scientific institutions. Experts say that many of those deaths were avoidable and some of the harm to science could be permanent. "I've never seen such an orchestrated war on the environment or science," says Christine Todd Whitman, who headed the US Environmental Protection Agency under former Republican president George W. Bush.
From the 2017 travel ban that affected many researchers to the recent sidelining of the Centers for Disease Control and Prevention during a global pandemic, Nature offers a timeline of US President Donald Trump's impact on science.
Africa needs a coordinated strategy to develop, finance, manufacture and deliver vaccines across the continent, write four scientists from the Africa Centres for Disease Control and Prevention. Past scrambles for HIV and H5N1 influenza therapies have left Africa at the end of the queue, and history must not repeat itself, they argue. They recommend a strategy with three pillars: accelerate African involvement in vaccine development, ensure the continent can access a sufficient share of the global supply and remove barriers to widespread delivery and uptake.
US particle physicists will soon begin to gather ideas for their next challenge, facing the unusual situation of having ticked pretty much everything off their to-do list. Generous funding from the US Department of Energy (DOE) helped the community to kick off almost every undertaking that they defined in their last multi-year plan, including several neutrino projects, dark-matter detectors and a network of telescopes to study the cosmic microwave background. Top of the list: maintain the enviable harmony that helped them to achieve the successes of the seven years since the last big planning process. "Being unified is the new norm for us," jokes Jim Siegrist, the DOE's associate director for high-energy physics.
I was charmed by the heads up that computational chemist Mark Alan Hix received from his principal investigator about a draft paper. Titled "Warning! Blunt Edits Ahead!", it reminds us that "Edits/feedback are about your academic development, not anything personal about you or your worth — you are fabulous!" Wise words for any of us who feel the sting of the red pen.
Let me know how you soften the blow of constructive criticism — and include some about this newsletter, if you have any — at briefing@nature.com.
Flora Graham, senior editor, Nature Briefing
With contributions by David Cyranoski