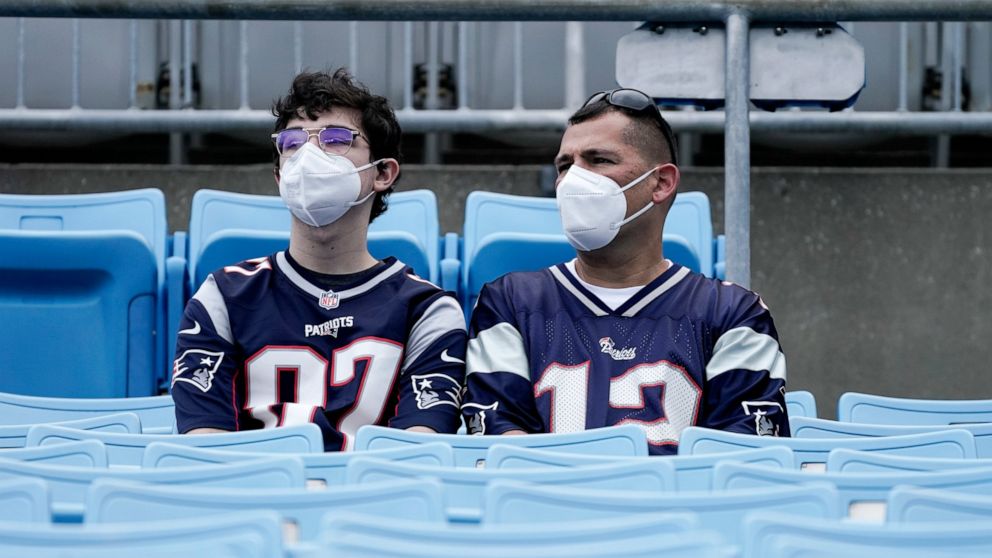 A severe thunderstorm has delayed the start of the Houston Texans' game at the Cleveland Browns
The Latest on Week 10 in the NFL (all times EST):
———
1:10 p.m.
A severe thunderstorm has delayed the start of the Houston Texans' game at the Cleveland Browns.
Shortly before kickoff, a nasty storm blew into FirstEnergy Stadium and both teams, who had come out for the national anthem, were forced to return to their respective locker rooms. The Browns said the start will be delayed for at least 15 minutes with more updates coming.
High winds are in the forecast for the remainder of Sunday's game.
— Tom Withers reporting from Cleveland
———
For the first time all season, the Green Bay Packers didn't score on their opening drive.
Green Bay instead took the opening kickoff and went three and out, as Aaron Rodgers couldn't connect with tight end Robert Tonyan on a deep pass on third and 3.
The Packers had scored four field goals and four touchdowns on their opening drives through their first eight games of the season. The 2007 New England Patriots were the only other team since 2000 to score on their opening drive in each of their first eight games of a season.
— Steve Megargee reporting from Green Bay, Wisconsin
———
12:55 p.m.
The Tampa Bay Buccaneers had a long travel adventure before their game at the Carolina Panthers.
Their flight to Charlotte, North Carolina, was delayed about 6 1/2 hours Saturday because of mechanical issues, and the team didn't arrive at its hotel until just before midnight, according to a person familiar with the situation. The person spoke to The Associated Press on condition of anonymity Sunday because the team does not release details of its travel itinerary.
The flight was scheduled to leave at an executive airport connected to Tampa International Airport at 2:30 p.m., but players remained on the tarmac for more than five hours waiting for the plane to depart. They eventually deplaned and boarded a different plane and left immediately for Charlotte, arriving at 11:15 p.m., where they were taken to a downtown hotel.
It was a rough start to the weekend for the Buccaneers, who are looking to bounce back from a 38-3 shellacking last week at the hands of the New Orleans Saints. The Panthers are looking to snap a four-game losing streak.
— Steve Reed reporting from Charlotte, North Carolina
———
12:40 p.m.
Weather could have an impact on today's Jaguars-Packers game.
The forecast in Green Bay today calls for a 90% chance of rain with winds at 20-30 mph. There could be occasional gusts of over 40 mph.
The Packers also had to deal with strong winds at their last home game, a 28-22 upset loss to the Minnesota Vikings on Nov. 1. Packers quarterback Aaron Rodgers said after that game that the Packers didn't handle the elements as well as they had in previous seasons.
Jacksonville also has a new kicker in Chase McLaughlin, signed off Minnesota's practice squad after starter Josh Lambo was placed on injured reserve with a hip problem. McLaughlin s the team's sixth kicker this season, following Lambo, Brandon Wright, Aldrick Rosas, Stephen Hauschka and Jon Brown.
———
12 p.m.
The NFL backloaded the Week 10 schedule in light of a conflict it doesn't usually have to deal with: The Masters in November instead of April.
Only three teams with a winning record (Tampa Bay, Cleveland and Green Bay) play in the early window today. The showcase games also happen to be in the West: Buffalo (7-2) at Arizona (5-3), Seattle (6-2) at the Los Angeles Rams (5-3) and Pittsburgh (8-0) looking to stay unbeaten against AFC North rival Cincinnati (2-5-1).
Baltimore (6-2) visits New England (3-5) in the nightcap.
———
More AP NFL: https://apnews.com/NFL and https://twitter.com/AP—NFL